Das Neueste bei BeWitched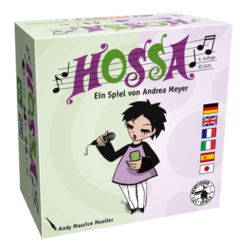 Hossa, the game for vocal artists is available again - this time in a small cardboard box with cards and rules in German, English, French, Italian, Spanish and Japanese.
Something else is new: The production of Hossa was offset in order to be greenhouse gas neutral. Find out at our Climate Action page what that means.
Hossa is available at shops and directly here on our website. Just in case you wondered what to give as Christmas presents!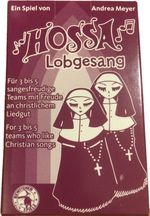 New from BeWitched-Spiele: The card game "Hossa Lobgesang" - in English " Hossa sanctus" was released. Illustrations were creeated by Andy Maurice Mueller, Christof Tisch made the artwork.
The game was published both in a small cardboard box (with 29 cards + rules) and a bigger metal box with 32 cards in postcard format which are water-resistant. Both editions were made possible through a crowdfunding and are distributed by Hiveworld. You can also order them on this website.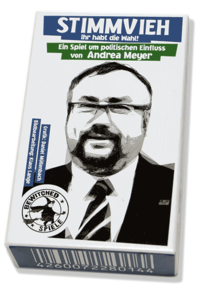 Can you manage a political party successfully in order to gain the most donations? The game's production was supported through a crowdfunding. The cardgame ironically addresses a German election campaign. The game's engine was improved compared to the first publication by BeWitched in 1998 and thus creates more dilemma. Thanks to many contributions of supporters the game is not only fun but also tells stories about political issues and positions.